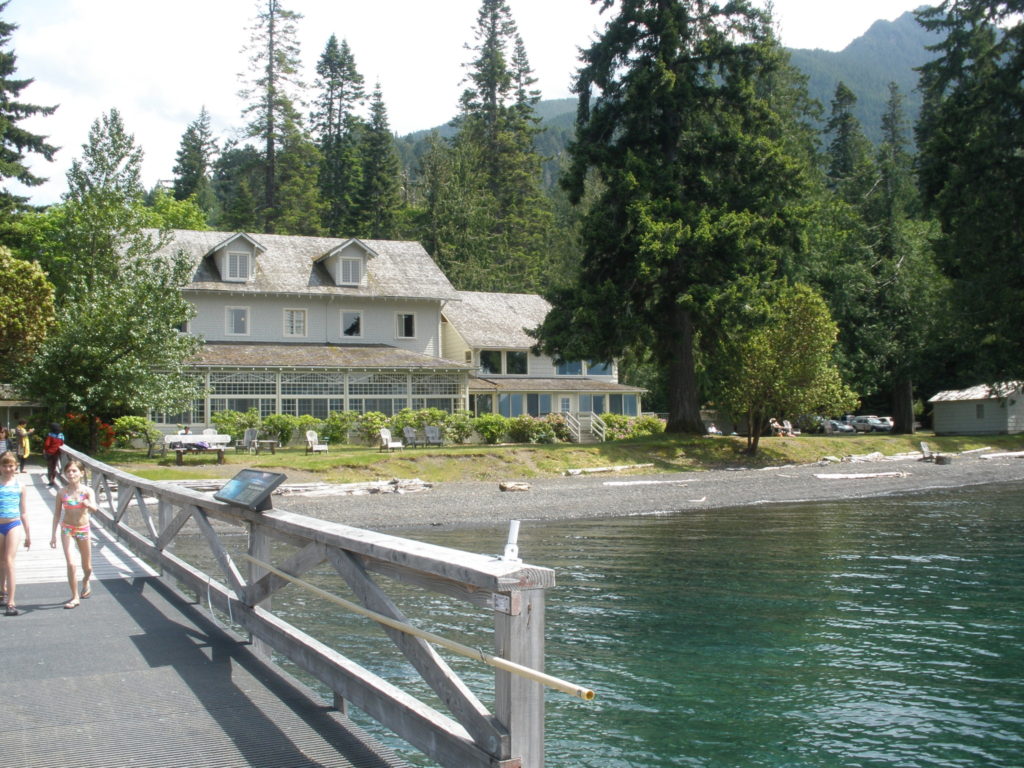 November 23, 2016
By Dorothy Rice Bennett
A long-time friend called and suggested, "Let's go out to Lake Crescent Lodge for Thanksgiving dinner."
Wow! What a perfect idea! Only an hour to the west of Sequim—about eighteen miles beyond Port Angeles—Lake Crescent forms part of the northern Olympic National Park boundary. The lodge is located on the southern shore, just a few blocks off Highway 101, but nestled deep in the forest as the main highway passes along the scenic border of this incredibly deep and beautifully blue lake.
Lovely and rustic, the lodge and its cabins have known many years of use and are enjoyed by locals for daytrips, overnights, and longer stays. But, since the Olympic Peninsula is on the remote northwest tip of the Continental United States, the lodge is still a fairly quiet place, and the lake itself is pristine—not yet the tourist attraction that Hurricane Ridge has become.
Long history
When I wish for physical beauty, peace and quiet, I go to Lake Crescent. Formed by glaciers—and separated from near by Lake Sutherland by a landslide nearly 7,000 years ago—the lake is approximately 600 feet deep and very blue—caused by a lack of nitrogen that inhibits algae growth—and inhabited today by variants of trout fish. On beautiful summer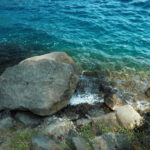 days, Lake Crescent remains amazingly quiet. Kayaks, canoes, and sailboats can be seen out on the water, and at some places an occasional small motorboat appears moving along. But stillness reigns.
Lake Crescent Lodge actually has a longer history than the national park itself, having been built as a tavern with lodging rooms in 1914. When President Franklin D. Roosevelt visited the Olympic Peninsula in 1937 with the view of making the mountainous region into a national park, he stayed at the lodge. After ONP was officially founded in 1938, the original privately-owned lodge was gradually folded into the park structure. Some early buildings were torn down but the old lodge still stands.
This main building features a lobby with fireplace, dining room, gift shop, rest rooms, bar, reservations center for tours and boat rentals, a long enclosed porch, and rooms above—reachable by a staircase. The season until a few years ago ran only during the summer months but has gradually been extended into the fall and until the holidays, closing after New Year's and reopening in late April. Numerous cabins, rooms, and condos—some older and rustic, some newer and fancier—dot the area around the main building. Some are open seasonally, but the Roosevelt Cabins are open on weekends even during the winter.
Outdoors by the lake, tables, fire pits, benches and chairs all offer a quiet place to contemplate and take pictures under huge evergreen, madrone, and deciduous trees. Nearby are several forest trails.
Whenever company visits our home in Sequim, it is always my goal to include a luncheon trip to Lake Crescent Lodge. Along with ONP's famous Hurricane Ridge a mile high into the mountains, Lake Crescent is an incredibly beautiful feature of the park—and easily accessible from the 101. Whether eating formally in the dining room, or picnicking along the beach, it is a gorgeous place to share time. Awesome in its peacefulness and natural beauty.
Dining details
The dining room is open for three meals a day, with a pause after breakfast; reservations are required for dinner only. The menu is varied, and there is clearly a chef on site. This is a white-table cloth setting, with the lake visible out the waterside windows. Although more expensive than a local diner, the meal tab is fair for the quality of the food, the ambiance, and the fine service. I have visited several times and would highly recommend it, especially for visitors or special occasions. You won't regret it!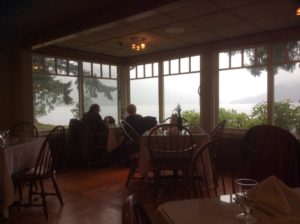 My friends and I had a lovely buffet Thanksgiving dinner there this year. The food and service were great, and we didn't let a little bit of rain ruin our fun.
For information on the lodge or to obtain reservations, you can begin with https://www.nps.gov/olym/planyourvisit/visiting-lake-crescent.htm or http://www.olympicnationalparks.com or http://www.olympicnationalparks.com/lodging/dining/lake-crescent-lodge/
You can phone (360) 928-3211 for dinner reservations. The main floor of the lodge is handicapped accessible.