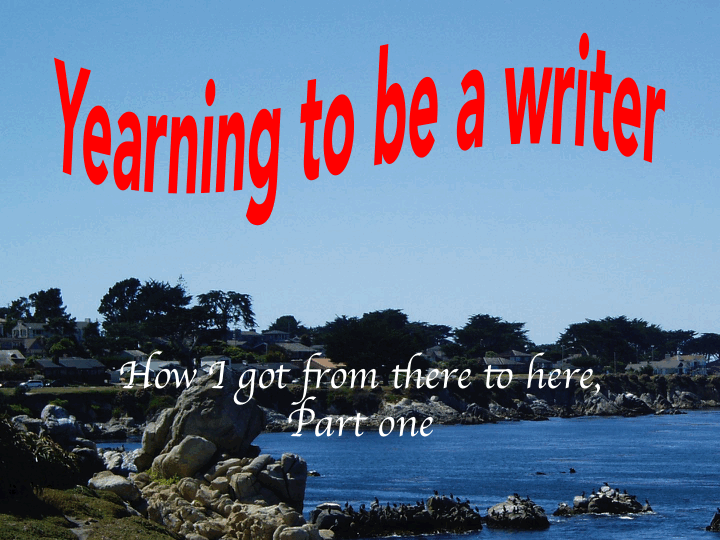 By Dorothy Rice Bennett  
I'm sitting here in Sequim, Washington, editing my third novel in three years. I'll be seventy-five this next week. How in the world did I get to this place at this time in my life?
My personal philosophy is that writers are born. It's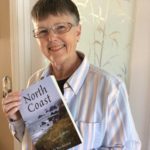 in the genes. It's inherited from parents and grandparents—even if the only thing those forerunners did was assemble a grocery list or write names in the family Bible. Beyond the DNA, the writing gene is modified by life experiences. Since the only life experience I truly know—and halfway understand—is my own, I have to start there.
Being an 'only'
I am an only child (I don't say "was" because the impact of that reality never goes away). My parents were decently educated for the time; my mother had an eight-grade diploma, and my father finished the tenth grade. My mother became a secretary and a family business partner. My father worked as a timekeeper for Link-Belt for seventeen years, co-owned a family business with my mother, sold insurance and later did some real estate work. He studied law at night during the 1930s but failed the bar exam so never practiced law. Both my parents were deeply affected by the Great Depression; they were married in 1930 and saw their lives take very different courses than they had dreamed.
I was born in 1942, after the brick-veneer house was built and furnished in Speedway, Indiana (home of the Indy 500) the yard was fenced, and the mortgage was paid off. My parents then thought they were ready for me, so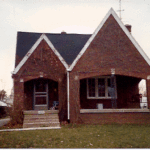 I was born. I was a challenge, probably more than they had realized. Thanks to the stresses created by an active toddler, they separated for three months when I was barely three. My mother took me by train in the summer of 1945 to Wenatchee, Washington, to see her family and give my father time to think. After numerous pleading letters, Mother and I went home. Their marriage was not made in Heaven but with a few relapses (and episodes of the Bickersons) they stayed the course for more than fifty years, until my mother died.
So I was this blonde, blue-eyed little girl living with a mother (I never called her anything but "Mother") who wanted a feminine little girl and a father who wished he had a son. Somehow, I took to the boy part and pushed aside my dollhouses in favor of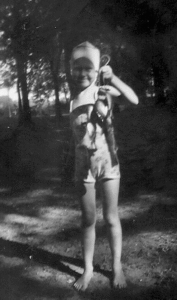 cowboy hats, western shirts, and cap pistols. There were lots of boys in the neighborhood and only one girl, who shortly moved away. So I played Army and touch football and built forts in the back yard. My dad took me to Indianapolis Indians baseball games and played pitch and catch with me. I had a bat, ball and glove.
When the insurance business came into their lives, I was seven. I was imaginative and creative and verbal and constantly active. I did everything on my own, of course, since I was an only. Sometimes I just needed to talk to my mother, but since the business was in our living room, she was working, and my father would say, "She's busy now, go outside and play."
Words and pictures
Thus, I played when I could, read lots of books, and went to movies at the movie house around the corner as soon as I was old enough. First the daytime Saturday matinees with the Western feature and then every program change during the week—adding up to at least seven different movies weekly. Words and pictures nurtured me. They provided an escape from my loneliness, but they also taught me about life beyond the three people (plus one cat indoors and one dog outdoors) that inhabited my principal world.
By the time I was ten, I could build meaningful sentences. My constant exposure to words and pictures took form, and stories began to emerge from my brain. By eleven, my emotions had become aroused, and I developed my first crush, on the swimming actress Esther Williams.
In the fifth grade, all of these influences came together as I bought spiral notebooks and started writing stories. My first efforts were like movie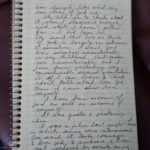 scripts in narrative form. My characters were drawn from the movies I had seen and the actors and actresses that I admired. I loved writing, because I could make up my world the way I thought it ought to be, instead of the way it really was.
Women ahead of their time
My principal characters were always women, and the heroines all looked and sounded to me like Esther Williams. But my women weren't limited by culture and tradition. My heroines flew Navy jets in the Korean War; they raced horses in the Kentucky Derby; they roared through the water in hydroplane boats; and they competed in race cars. (This latter plot line was inspired by my living two blocks from the Indianapolis Motor Speedway track and having racecars and drivers as part of my life every year during May.)
I shared my first hand-written story with my classmates in Speedway Elementary School, and they all raved and asked for more. I continued writing and sharing. I still have a box of notebooks around here somewhere with all those very dramatic stories in which women anticipated their future opportunities by at least thirty years.
As I moved into adolescence, I had no perspective on where this playful, juvenile interest in writing would or could take me. It was fun and it just flowed out of me.
How writing fit into my later life is a subject for another blog.