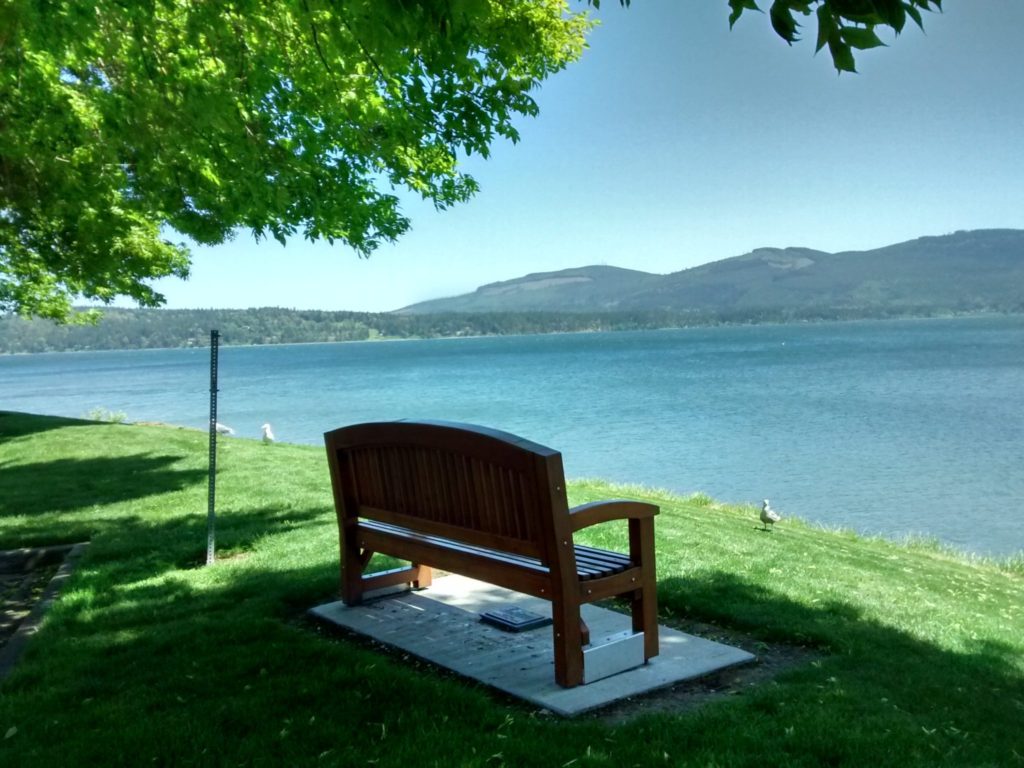 By Dorothy Rice Bennett
You ever want to have a picnic, but you don't want to drive far? You don't have a lot of gas in the tank? It's warm and sunny, but you need a little shade? Like being near the water? Well, for residents of Sequim, Washington, all those things are available right around the corner. About a mile from our home on the east edge of Sequim sits the John Wayne Marina.
Now, a marina for a boater means one thing. For a picnicker, it means something else. And not all marinas are good for both. But we're lucky. The John Wayne Marina was laid out as a marina but also a park. That means beautiful scenery, lovely shade trees, benches, tables, a stream running through it, a beach to walk on at low tide, and close parking. It means a built-in trail to exercise your pet. It also means a point of land beautifully laid out with plenty of shade and an open space to hold weddings and other ceremonies.
Named for 'The Duke'
Actor John Wayne (yes, 'The Duke') once owned a private yacht that he used for family vacations, many of those vacations in or near the Pacific Northwest. His yacht, 136-feet long and named Wild Goose, was a converted US Navy Minesweeper built and launched in Seattle in 1942. Following the war,
Wayne bought it from a Seattle businessman in 1965 and took his last trip on Wild Goose in 1979, two months before he died. Wild Goose currently resides in Southern California as the flagship for Hornblower Cruises &  Events.
While traveling the Puget Sound and the Straits of Juan de Fuca, the Wayne family acquired acreage along the western shore of Sequim Bay. After the actor's death, 22 acres were donated by the family specifically for the creation of the John Wayne Marina; the marina was constructed in 1985 and is owned and operated by the Port of Port Angeles. The remaining acres were turned by the family into an RV park and rental cabins across from the marina.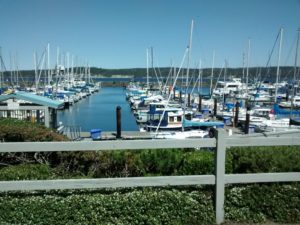 Today the John Wayne Marina remains a jewel of the Olympic Peninsula. Located on a lovely and quiet bay, protected by an attractive berm, the marina provides rental slips, guest docks, launch ramps, rest rooms, laundry facilities, and showers. There is also a restaurant, Dockside Grill, on site, banquet rooms, and the Sequim Bay Yacht Club. Rental kayaks and canoes are available at the guest docks, along with fuel supplies. The marina was featured in the June 2003 issue of SEA Magazine's "Best of the West" for small marinas.
Meet and greet
For those of us who are not currently boat owners, the marina is a beautiful place to enjoy, to sit and contemplate the beauty of nature, to exercise our dogs, and to meet and greet nice folks who come here from just about everywhere. It's a place where everyone smiles and says, "Hi."
In the summertime, although temperatures on the Peninsula rarely rise much above 80 degrees, the sun can feel hot. Walking a dog without shade is difficult for human and furry pet. So, parks become important. They often have more shade then a typical recently-constructed neighborhood—since Sequim's principal growth has been in recent years, many of our trees are young and small.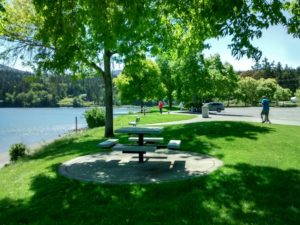 When I drive down to the marina, the dogs get excited as soon as they realize where we are going. They love the marina. Good smells there and lots of other dogs to meet. While my poodles are saying hello in their own way, we humans do too. And walking beneath the trees with a slight breeze is several degrees cooler than at home.
Always something going on
The marina is a busy place. In the summer, there are fishing derbies that bring numerous trucks pulling trailered fishing craft, and they fill the parking lots and W. Sequim Bay Road outside. The launch ramps are busy as boats slide into the water and later in the day are retrieved. When it's crabbing time, boats leave with empty crab traps and return later filled with crab. Refrigerator trucks wait in the parking lots to take the fresh crab to markets and restaurants.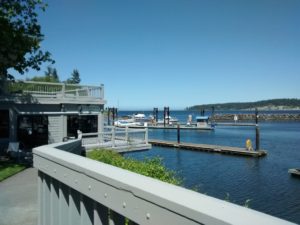 During the daytime, docks are open to the public, and walking the slips, it is possible to find all kinds of power and sailing vessels from many homeports, including Capt. Martin's catamaran that takes visitors on local sightseeing trips. There is also a research hatchery floating dock. Large fishing boats from Alaska and Asia appear occasionally at the guest docks. One day a woman and a man pedaled around the marina in a small fold-up trimaran sailing craft. You just never know what you are going to see.
For boaters and non-boaters alike, Dockside Grill is a "main attraction." Open for lunch and dinner, Wednesdays through Sundays, the grill offers great views of both the bay and the marina and seafood delicacies served with panache. A perfect place for that birthday celebration, anniversary party, or impress-your-guest dining event.
The John Wayne Marina, 2577 W. Sequim Bay Rd., is easily reached via W. Sequim Bay Road, a left turn off E. Washington St., or via the Whitefeather Way exit off the 101 Highway about a mile east of town. If you are passing through Sequim, don't miss it. If you live here, summer's here. Time for a picnic!
http://www.portofpa.com/index.aspx?NID=186
http://www.docksidegrill-sequim.com/index.html
http://www.visitsunnysequim.com/index.aspx?NID=225