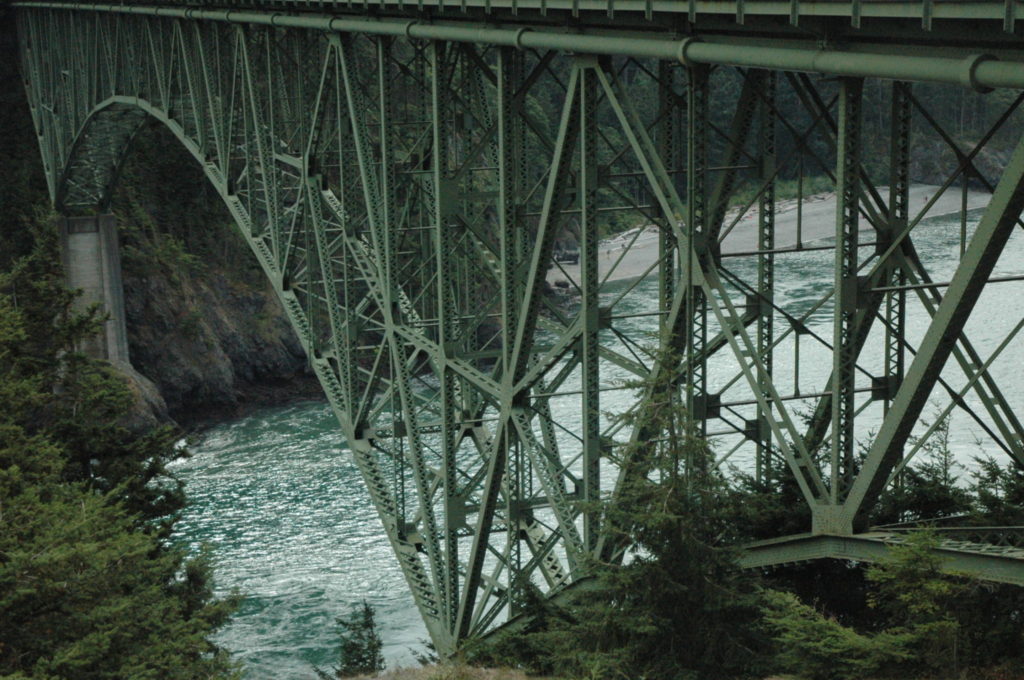 By Dorothy Rice Bennett    
One of my favorite summer-time day trips from Sequim, Washington, leads to Deception Pass, a tricky stretch of water that separates Whidbey and Fidalgo Islands in the Puget Sound. From Sequim getting there requires a two-hour drive (plus a thirty-minute ferry ride from Port Townsend on the Olympic Peninsula to Coopeville on Whidbey Island).
Deception Pass is important for many reasons—among them, spectacular beauty, photo opportunities, fascinating history, and a variety of fun activities. Take along a picnic basket, camera, casual clothes, and sturdy footwear.
History
Fidalgo and Whidbey islands have been home to Native Americans for more than ten- thousand years. The most recognized names today are the Samish and the Swinomish tribes. A Swinomish Reservation was established in 1873 and today the Swinomish operate a popular casino and hotel east of Anacortes, the largest coastal city on Fidalgo Island. The Samish were officially recognized as a tribe in 1996; their art can be seen at Rosario Beach on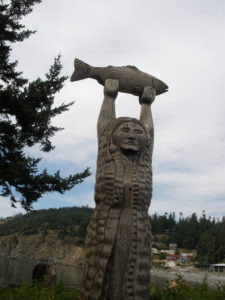 southwest Fidalgo Island.
First exploration of the area occurred in the 1790s. Spanish explorer Juan Carrasco discovered the entrances to what is now Deception Pass in 1790; Master Joseph Whidbey of the English-sponsored Vancouver Expedition found and mapped Deception Pass and Whidbey Island in 1792. Vancouver named the waterway "Deception Pass" because his sailors were deceived by it, thinking that Whidbey Island was part of a peninsula. The waters are known to be treacherous to sailors; hence the name still applies to this day.
Trappers and hunters arrived in the area from the 1790s to the 1870s. Pioneer settlers began appearing in the 1850s and groups, including several women, settled permanently by the 1870s. These pioneers came from a variety of backgrounds but largely turned into farmers on the islands. They raised cattle and harvested fruit, cabbage, cauliflower seeds, and hops.
Modern Background
Early in the twentieth century, travelers crossed between Whidbey and Fidalgo Islands via a five-minute ferry ride—available hourly and subject to storms and breakdowns. Operated by a married couple, O.A. and Berte H. Olson (the first woman to hold a ferry captain's license in Washington), the sixty-eight feet long and twenth-four feet wide ferry charged fifty cents per crossing and ten cents extra for additional passengers. The Deception Pass Ferry, built specially by the Olsons, operated from 1922 until 1935, when the twin bridges were completed and connected to the small Pass Island from the north and south.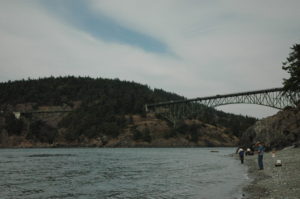 The picturesque bridges are now listed on the National Register of Historic Places. Photographers love the fact that these bridges are equipped with pedestrian walking paths, but if you have a touch of vertigo, the vibrations of automobiles just inches away and the rushing waters below could prove a challenge!
Southern Fidalgo Island and Northern Whidbey Island are largely wilderness. Deception Pass State Park takes up much of the land on both sides of the pass, and Rialto Beach is a major attraction on the northwest side of the pass. On a day trip from Sequim, there is plenty of time to explore both sides of the pass and hang out along the bridges. Pathways for the sure of foot visitors lead to magnificent views of the water, land, and bridges.
Park and beach views and activities
Deception Pass State Park was created in 1922 when sixteen-hundred acres of military reservation was transferred to Washington State Parks; it became official the following year and was developed by the Civilian Conservation Corps in the 1930s. In addition to and on both Whidbey and Fidalgo Islands, the park includes ten smaller islands that are in and around Deception Pass. Among the most visited parks in Washington, Deception Pass sees more than two million visitors each year. The Pacific Northwest Trail passes through the park; hikers must brave the pedestrian paths across both bridges. Entrance to the park is at Highway 20 and Cornet Bay Rd on Whidbey Island. Beaches on the west side offer great photo ops of the bridges.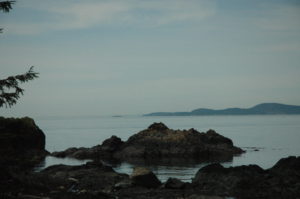 Rosario Beach is located on Fidalgo Island, at the western edge of Deception Pass State Park; it contains sandy beaches, a peaceful place for picnicking, tide pools to explore, and photo ops including The Maiden of Deception Pass story pole, based on Samish legend. Rosario Beach largely faces the Strait of Juan De Fuca and nearby islands, but trails toward Bowman Bay allow vistas of Whidbey Island and Deception Pass. Ancient trees provide bald eagle perches, and the waters close to the beach and tide pools offer amazing examples of sea life at low tides. Whales and porpoises have been seen in the waters to the west.
Boating in the pass
Deception Pass earns its name over and over for any boater, kayaker, diver, or scuba diver that braves the waters of the passage. During ebb and flood tides, currents can flow at nearly ten miles per hour, in opposite directions between ebb and flood. These currents can lead to standing waves, whirlpools, and roiling eddies. Not a place for the inexperienced to venture. This wave action can be viewed from the pedestrian walkways on the bridges and along a path leading from the parking area on Whidbey Island south of the bridge. Boats attempting passage can be seen at each end waiting for the tides to change or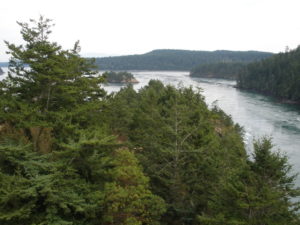 turn before going through. From Sequim, there is an opportunity to transit the pass with an experienced licensed captain, Charles Martin, who keeps his tour boat at the John Wayne Marina and offers a Deception Pass tour through the Shipley Center in Sequim.
Getting there from Sequim
To spend the day on Whidbey Island and explore Deception Pass, Deception Pass State Park, and Rosario Beach, begin by taking Highway 101 east to Highway 20. Turn left onto that highway and drive to Port Townsend, about a forty-five minute trip from Sequim. Make a reservation ahead for the Port Townsend-Coopeville Ferry, a thirty-minute ride to Whidbey Island. Follow Highway 20 north to Deception Pass and its park and beaches. Including ferry wait and ride, allow three hours for the total trip each way. Doable on a long summer day and worth the effort. In August and early September, remember the sunscreen and plenty of water!
https://en.wikipedia.org/wiki/Deception_Pass
https://en.wikipedia.org/wiki/Deception_Pass_ferry
http://www.deceptionpassfoundation.org/around-the-park/rosario/
http://thewaterlimousine.com/index.html
https://en.wikipedia.org/wiki/Pacific_Northwest_Trail