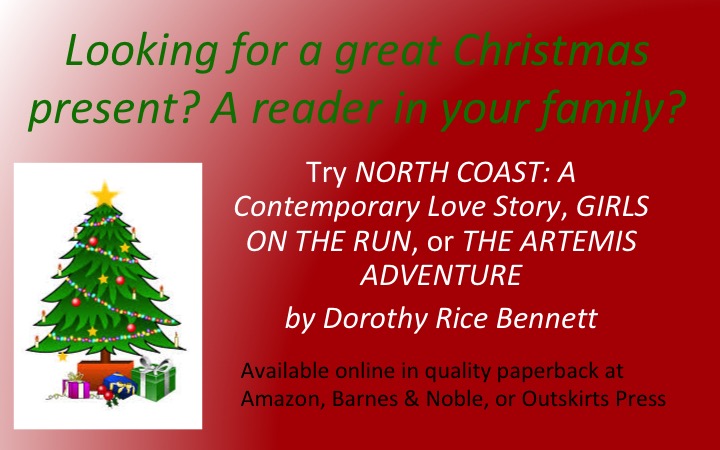 By Dorothy Rice Bennett
For anyone curious about my new novel, The Artemis Adventure, I'm attaching a draft from the first galley sent back to me by the publisher, Outskirts Press. There may be a small change or two from this galley to the finished book, but the essence of the story is here. This may give you some understanding of the book, my writing style, and hopefully entice you to want to read it.
Thanks for your interest!
1
Kiki's Star
As Kiki lay on the warm rooftop and gazed skyward at the stars, she made up her mind. She was definitely leaving.
Her mama and papa were screaming at each other in the apartment two floors below. This ongoing marital battle erupted in semi-weekly yelling bouts, and Kiki needed to escape the uproar. She had learned that the best way to keep her own sense of balance was to come up the stairway to the roof, spread an old blanket, and lie down on her back. If she was lucky—and it was a clear night with minimal smog—she could see the moon and stars overhead.
Kiki was not an expert on astronomy. Although she didn't know the official names for the star constellations, she loved looking up at the night sky. At first, her favorite star had been the really big, bright one that she could always spot even when she found it in a slightly different place. After she had spent months just lying still and focusing on its bright light—while lost in her own teenage fantasy world—she noticed a smaller star just down and to the right of the big one. This one seemed to blink at times. The star would disappear and then come back. Kiki decided, with a touch of amusement, that maybe this star was communicating with her.
Someone from Kiki's high school had read a book about mythology and told her about a Greek goddess named Artemis. An archer who wandered through the forest in search of adventures, accompanied by her faithful dog, Artemis was strong and independent—kind of an outsider who acted on her own. Although Kiki had never seen a real bow and arrow in the South Bronx, and a dog would be a luxury in her family, she liked the idea of Artemis's free spirit and named her blinking star after the goddess.
*****
Kiki had slipped away to the rooftop during the past several months, weather permitting, to have some privacy to think about her life. The Rodriguez apartment was crowded and cluttered, with six people sharing it—her three brothers as well as Kiki and their parents. At the moment there were only five, because her oldest brother Raul was serving time in prison. Besides that, Javier was seldom home, since he hung out with his gang, and Kiki feared that he would eventually end up dead or in prison as well.
A product of the American melting pot, Kiki bore the name Patricia Loretta Cristina Rodriguez. She felt like a Heinz-57 mutt, with her mostly Polish mother and her Puerto Rican-Filipino father. She was third among the family's four children. Only Gusto was younger. With difficult and often-absent older brothers and an alcoholic father, Kiki had been forced to take care of herself at an early age. Her gut feeling was that lack of money and a chaotic upbringing—not to mention being a female—would make adult life very challenging.
Just turned eighteen, Kiki was five feet, two inches tall with an athletic build. She had large brown eyes that sparkled, wavy dark hair that fell to her shoulders—when not pulled into a ponytail—and an olive complexion. She was pretty, with full lips and two dimples that showed when she smiled. Kiki felt self-conscious about her nose, which seemed, to her, a bit too pug for her face, and she had a slight scar over one eye—a scar she had acquired when she hadn't ducked soon enough as two brothers sparred with each other during a family fight.
Kiki had just finished her junior year in high school. One more year, she thought to herself, and you can start college and get out of this depressing world.
Kiki heaved a deep sigh. Yeah, what a dream. What chance did she have to go to college, really? She had worked for an elderly Jewish baker until he had a stroke and his store was closed. Now she couldn't find another job, and the little savings fund she had spirited away for school kept shrinking instead of growing. No matter how creative she was in hiding her stash, Javier was smarter. When he needed drug money, he turned her room upside down until he found cash or something else he could sell. Kiki would scream at him and pound his shoulders with her fists, but he would just shrug her off, take her money, and nothing would change.
It seemed to Kiki that Mama and Papa's fights were becoming worse, and with the sweltering days of summer upon them, they would be at it almost every night. Kiki was sure there was nowhere in the world more hot and humid than a South Bronx apartment in August.
She lay on the steamy roof and watched Artemis blinking at her and knew that it was time to do something. Scary as the thought was, it was time for her to leave. Out in the world, under those stars, there had to be someplace better than this. If she didn't go now, she might never escape her family's cycle of poverty and crime.
*****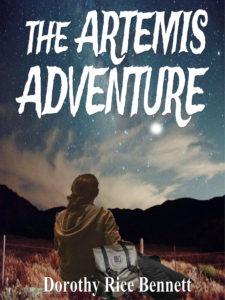 A door closed quietly nearby, and a familiar form dropped down beside her.
"I thought I'd find you here," whispered Manuela. "I didn't bother knocking on your door when I heard them yelling."
The two teenage girls lay quietly for a moment, each watching the night sky. They had been best friends since grade school. They knew each other so well that they hardly needed words to read each other's thoughts.
"Artemis is bright tonight," Kiki finally commented, pointing her finger at the twinkling star low on the horizon.
"Yeah," Manuela nodded, her chocolate brown eyes studying Kiki.
Kiki sighed. "I'm doin' it," she said. "I'm leaving."
A look of pain crossed Manuela's round face. "Really?"
Neither spoke for a long moment. "You wanna come?" Kiki finally offered.
"Oh, Kiki, I wish. But I got school and Ramon. I couldn't run out on Ramon. I mean, he's beginnin' to talk marriage, an' I—"
Kiki reached for Manuela's bronze-skinned hand. "I know, Manuela. I just had to ask. You're my best and dearest friend."
The two girls continued to hold hands as they lay and looked upward, each one lost in thought. Kiki felt the soft warmth of Manuela's larger paw. She would miss the reassurance of that hand.
*****
Aware that it was really late, Kiki stood up and pulled Manuela to her feet. The other girl towered over Kiki. They embraced for a long moment.
"I'll miss you, Kiki," Manuela whispered, as a tear slid down her cheek.
"Me, too. I'll write when I can, okay?"
"Okay."
Kiki opened the heavy metal door that led to the roof, and they walked carefully and quietly together down the dark, graffiti-scarred stairway to apartment 3A. They held each other once again briefly, and then—when Manuela had disappeared after waving a final goodbye—Kiki entered the dark and now blissfully silent apartment. Her papa had passed out drunk on the couch, and her mama had gone to bed. Kiki sighed with relief. Tonight might be easier than some.
Stepping inside her tiny bedroom, Kiki shut the door. Closing it made her personal space—which barely held a twin bed, dresser, and a small desk—even more sweltering than usual, but she needed privacy. She stretched out on her bed as the hint of a breeze puffed at the yellowed curtains hanging at her open window. Staring in nighttime dimness at the peeling paint on the ceiling, she attempted to make a plan. She would sleep, as much as she could, and then split in the morning. She'd take her money and her duffle bag and leave everything else, what there was of it. Thinking about Manuela—and being glad that her friend had stopped by so that one person knew she was about to leave yet wouldn't tell—Kiki finally drifted off to sleep.
She awoke suddenly when the first hint of morning light crept through the cracked windowpanes. Rolling out of bed, Kiki hurriedly showered, and dressed. Then she began to pack. Pulling her PE duffle bag out of the closet, she tossed in her personal bathroom supplies. She added two changes of underwear, a couple of T-shirts, socks, a pair of shorts and some long pants, and a fleece hoodie. She laid a jacket on the bed. It was worn but made of soft black leather—something Javier had won in a gang squabble and then given to her because it was too small for him. Her heavy hiking boots sat on the floor; she would exchange her slippers for them when she was ready to leave.
Kiki threw the bag back into her closet and strolled out to the kitchen, acting as normally as she could manage. Mama was silent, nursing a black eye, and there was an air of tension about her from last night's battle. She was fixing her usual breakfast of hash browns, which Mama made fresh and called "rosti," along with beans, rice and tortillas for Papa.
Clearly hung over, Papa was smoking a cigarette and trying to absorb the morning paper. Javier apparently hadn't come home again last night, because at the table there was just Gusto, who was barely fifteen.
Kiki pushed down anxiety as she seated herself and quietly studied everyone. She wanted to press their images into her memory, because she had no idea when she would see any of them again. There were things that maybe she should say, but words might create an alarm, and she didn't want that, so she swallowed hard and kept silent.
Mama put the food on the table and commanded as usual, "Here, eat."
Papa grunted and awkwardly juggled his newspaper, cigarette and fork. His eyes were fogged and watery.
Kiki sighed. Maybe slender, handsome Gusto, who dug into his beans and rice with a vengeance, still had possibilities. She hoped so, because he was a nice kid, yet she really wondered. She looked down at her plate of food but her stomach was tied in knots. Although she would need a good meal in her for the road, her mouth felt like cotton.
Mama turned from the stove, stared at Kiki and grunted. "Patricia Loretta Cristina Rodriquez, you eat! I'm not wastin' good food." She waved a finger menacingly in Kiki's direction.
"Yes, Ma'am." Kiki struggled to swallow a bite of hash browns.
Mama pointed at Javier's empty chair. "Where's Javier?"
Gusto looked up. "He ain't home."
Mama swore under her breath. "He'll end up like his brother, rottin' in a jail somewhere, if he don't get knifed or shot first."
There was silence, as they all tried to clean their plates. No one wanted to anger Mama and start another fight.
Finally, Kiki pushed away her chair. "Well, I'm gonna look for a job again today. So I better get going."
Mama looked at her directly. Her eyes softened and a little smile crossed her face. "Good luck, baby."
Kiki melted and rushed to be embraced in her mother's fleshy arms. "I love you, Mama," she said with tears in the corners of her eyes. Silently to herself, she admitted, "I'll miss you, Mama."
Papa grunted. "You better find somethin' soon, bambina. Now you eighteen, you gonna hafta start payin' rent around here. You got a whole bedroom, while the boys gotta share."
Mama flared. "Shut it, Pablo. She knows what she's gotta do."
Kiki backed away from the tension and fled to her room, where she waited breathlessly. A few moments later, she heard her papa stand up and, with a heavy step, bang out the front door headed for work. Soon after that, Gusto followed on his way to summer school, and her mama soon left for her job in the meat market down the street. After the door shut for the last time, the apartment was quiet.
Huddled for a moment on her bed, feeling overwhelmed, Kiki struggled to pull herself together and remember her goal for the day. She had to get far enough away that they couldn't come after her. She was of age, and she had the right to leave, but that wouldn't stop her papa, or Javier, from coming to find her and forcing her to return home.
"You'd think they would be glad to see the last of me, since I'm just another mouth to feed," she muttered aloud. "But, no, I'm part of the glue that holds this family together, so they want me here." She sighed. It was time to live for herself, if she was ever going to have a life.
Kiki looked around the room at her favorite dolls, movie posters, and high school souvenirs that she might never see again. As she surveyed her life history, she thought of two other things she must take: her beat-up camera and a book of souvenir matches from the Waldorf Astoria Hotel. She might need matches for something, and the matchbook recalled one memory of something beautiful in New York.
Kiki wrote a vague note to her family—which they would find later in the day—saying she loved them and would be in touch. Then she emptied all her secret hiding places of her remaining savings, along with a Greyhound ticket from Newark to Pittsburgh that she had purchased in advance. She had figured out that non-express, slower buses were cheaper, so she had paid for the first leg of her trip. She sighed as she looked at her small roll of money and the ticket. This wasn't much to get her to California.
*****
Kiki left the building, shouldering her duffle bag and jacket. Her pockets and boots were lined with cash. A slim wallet with her only identification was stuffed in a jeans pocket.
With her entire body a bundle of nerves, Kiki walked hesitantly to the nearest subway station. Going underground, she paid her fare to Penn Station. From there she would switch to a New Jersey line that would take her to Newark within an hour. She figured it was the quickest way out of New York. Once in Jersey, she could board the Greyhound headed west.
At a Penn Station kiosk, Kiki bought a bottle of water and a U.S. map. She felt dumb not to have thought of this before and picked up a map for nothing or next to nothing somewhere in the neighborhood, but it was too late now. Although Kiki trusted that the Greyhound would eventually get her to San Francisco, she was used to being in charge and wanted to have some idea where she was headed. Logically, she knew enough to keep the morning sun at her back when going west. Yet once the New York skyline was out of view, she would need more than Artemis to guide her—after all, her star was only visible at night, and then only on clear nights at that.
Kiki studied the map while she rode the subway, her stomach aching as each mile took her farther and farther away from the South Bronx, her family, and the only world she had ever known. Looking at the map kept her from staring too much at the strangers around her, but she soon noticed they, too, were focused on books, newspapers, cell phones, and not each other.
At one stop, two women got on the subway together, giggling. Then they threw their arms around each other and kissed. Noticing them out of the corner of her eye, Kiki blushed and buried herself more deeply in her map. Then she found herself—she didn't know why—glancing at them as they stood arm in arm talking and laughing as the train hurled itself with jerking motions through the underground tunnel.
When she reached her New Jersey stop and left the subway station, Kiki surveyed the buildings around her and recognized how different everything looked and that she was standing on totally strange turf. Her heart began to pound in her ears. Calm down, she told herself. It was too late to be sorry that she had started this big adventure, but she was now feeling very unsettled. She had heard people were nicer and more helpful out West. Yet before she would reach California, she had days and nights to endure on a bus. Feeling waves of fear pass through her body, Kiki suddenly realized that despite her macho tomboy exterior, inside she was really a kitten. And right now a scared one at that.
Nervously taking deep breaths, Kiki strode toward the Greyhound Station.
Copyright 2018 by Dorothy Rice Bennett. Published October 7, 2017, by Outskirts Press. Available at Amazon.com, Barnes and Noble online, and Outskirts Press. Quality paperback, 315 pages, $17.95. Available locally in Sequim, Washington, through the author.