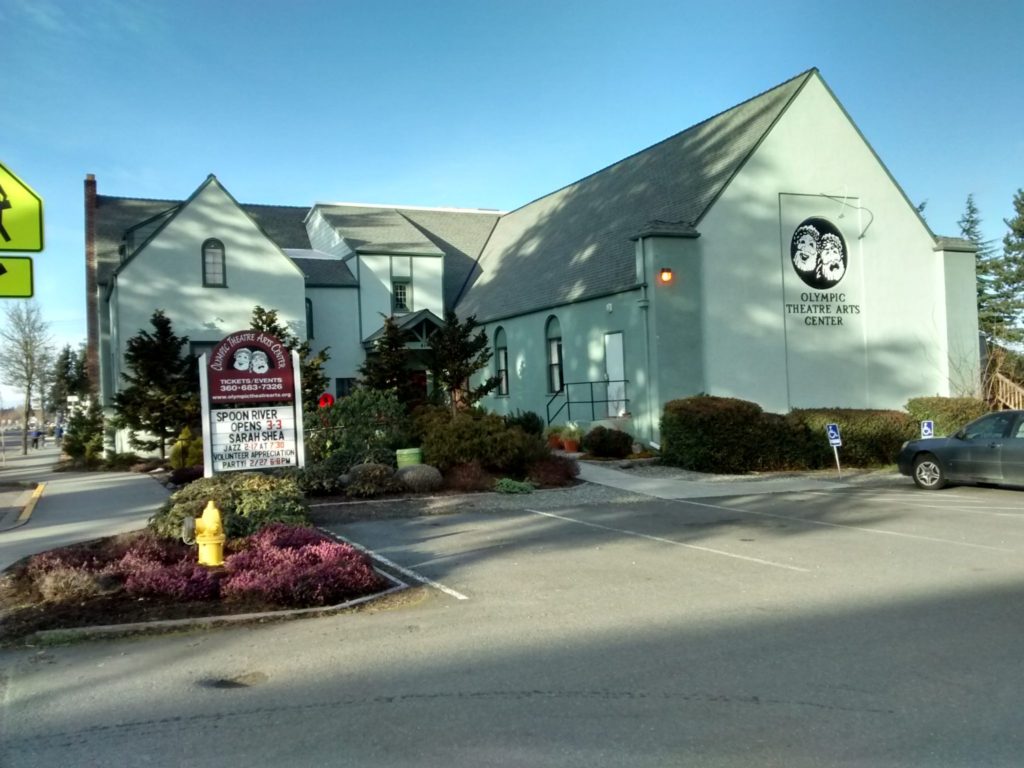 By Dorothy Rice Bennett
When I first moved to Sequim in 2010, I was disappointed that the nearest movie theatre was in Port Angeles, some twenty minutes away. I had lived in Phoenix and San Diego for most of my adult life and always had many movie multiplexes and live theatre venues close around me. What, I questioned, did a person do for entertainment in a small town? Where were all the arts?
Well, I soon found out that the Olympic Peninsula—though sparsely populated by comparison to Seattle and its environs—is far from a cultural wasteland. Indeed, the arts are alive and well in Sequim and on the whole peninsula as well. Compared to the big city, ticket prices are low and easy to obtain. And the talent isn't to be believed until you experience it for yourself!
Theatre productions
A few months after my arrival, I connected with local theatre, both Readers Theatre+ and Olympic Theatre Arts. I started ushering for OTA, which has a big season each year of five shows performed in the main theatre seating 160 and three shows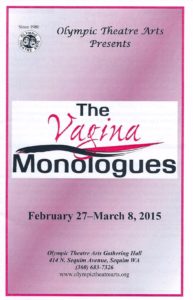 performed in the smaller, more flexible "gathering hall." Ushering allowed me to see all the shows, and I was really impressed with the quality of the performances. I eventually became a member, a house manager, and then served three years on the OTA board. Productions have ranged from the musical I Do! I Do! to the still controversial The Vagina Monologues and Shakespeare's Twelfth Night. Sequim residents love comedies, so OTA delivers several each year.
The Olympic Theatre Arts Center not only houses OTA's adult theatre productions and children's theatre training program, the building also serves as Sequim's performing arts center. Sequim Ballet, visiting musicians, various choruses, holiday music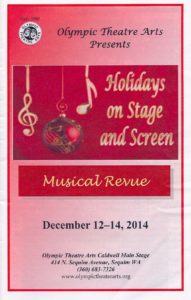 shows, and fund-raising events are performed on its two stages. One of my favorite evenings was a presentation involving four grand pianos on the main stage, all played at the same time by four pianists of different ages. An amazing evening and, of course, the house was full!
Beyond the confines of Sequim, friends alerted me to Port Angeles Community Players and another group that did summer musicals, Port Angeles Light Opera Association. I was soon driving to PA to see theatre as well. In the other direction from Sequim, a semi-professional theatre group, Key City Public Theatre, has a long and successful history in Port Townsend.
Sequim High School for more than fifty years has produced a spring musical—filling its large auditorium with audiences delighted by stellar singing and acting, sophisticated stage settings, and amazing costumes. Last year's Cinderella featured costume changes in front of our eyes that were purely magical! The high school stage is also the scene for a summer musical put on by Ghostlight Productions, run by the Lorentzen family—all talented singers, actors, and musicians. Ghostlight was responsible recently for the first West Coast production of the Tony Award winning musical Titanic.
Orchestras and choruses
Port Angeles has an excellent symphony orchestra. The full orchestra, and the smaller chamber orchestra, perform both in PA and in Sequim during their annual season. A couple summers ago, the PA Symphony joined with the Port Angeles and Sequim High School choirs for a "Pops & Picnic"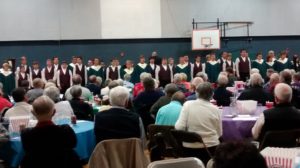 performance at the Sequim Boys and Girls Club. Dinner was served before the concert, and the audience gave the music a rousing reception. In a gymnasium setting, the orchestra disappeared behind the chorus members, but we could hear the musicians just fine!
Speaking of music, there is no end of musical opportunities in Sequim and the surrounding areas. The Peninsula Singers, a volunteer group with a thirty-year history, does two main programs each year, one before Christmas and a second close to Easter in the spring. The group performs classical, operatic, Broadway, film, and folk musical numbers. Sequim also has a community orchestra and a city band.
In Port Angeles there is the North West Women's Chorale, which has been performing on the Peninsula for the past several years. In Sequim, there is the Olympic Peninsula Men's Chorus, which offers barbershop singing; the group also has a quartet, "No Batteries Required."
The Chamber Music Society of Port Townsend is another excellent local group that focuses on talented young artists and offers training sessions in the summer months.. I have seen them perform at the Quimper Universalist Unitarian Church in PT.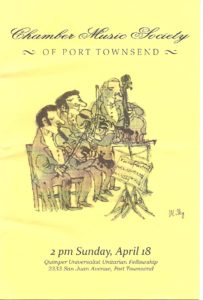 There is also the Port Townsend Community Orchestra, founded in 1987, which presents concerts during the year.
Festival and series events
Every summer for several days, visitors and locals enjoy the Olympic Music Festival, which features world class chamber musicians performing a variety of classical music pieces. Once centered in a barn in Chimacum, the event has been recently transferred to Fort Worden in Port Townsend. In 2107, it will be held July 15 and 16 and again August 12 through September 10 in the Wheeler Theater at the fort.
St. Luke's Episcopal Church in Sequim for several years has offered a monthly program called "Music Live With Lunch." Area musicians perform half-hour concerts in the church sanctuary, followed by a meal, prepared by church volunteers, in the community hall. Proceeds from the event benefit local charities. The monthly program is very popular, drawing large audiences and excellent local musicians: singers, pianists, guitarists, cellists, and violinists. Patrons have been fortunate to see amazing talent, including the young violinist Kate Powers who first performed when she was thirteen, having begun violin studies at age ten. Now ready for college, Powers plays both classical violin—she has already appeared with the Port Angeles Symphony—and fiddle. She is an incredible young talent!
Speaking of the fiddle, the Washington State Old Time Fiddlers Association, Section 13, meets in Sequim at the Grange Hall on the prairie side of town. Each month, on the second Saturday, adult and young fiddlers tune up to present an afternoon concert open to the public free of charge. If you enjoy fiddle music, the Grange is the place to be.
I know I haven't mentioned all the performers and venues on the Olympic Peninsula, but these are ones I have personally experienced. In any given week, there is always a performance somewhere. On some weekends, there are so many events it is not possible to see them all. Consequently, rural although we are, we do not lack for entertainment!
For more information on these groups, their specific locations, and their performances, please see the following:
http://olympictheatrearts.org/OTA/
http://www.porttownsendorchestra.org/orchestra/
http://centrum.org/port-townsend-chamber-music-festival/
http://portangelessymphony.org
http://ghostlight-productions.com
http://www.sequimcommunityorchestra.org
http://www.olympicmusicfestival.org
http://www.pacommunityplayers.com
http://www.keycitypublictheatre.org
http://www.peninsulasingers.org/PeninsulaSingers/first.html
http://www.nwwomenschorale.org
https://www.facebook.com/SHS.Drama.Department/
http://www.stlukesparish.net/serving/music-live/