Books
THE ARTEMIS ADVENTURE: SYNOPSIS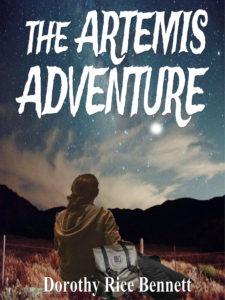 She is barely eighteen and not yet a high school graduate, but Kiki Rodriguez already knows that the South Bronx holds no future for her. Lying on the hot rooftop, avoiding the stifling apartment and a family argument, she stares up at her star, the one she has found, the one she has named Artemis. She studies her star and knows that it is time to go. Not impulsively, for she has thought about it a long time, and she has a destination—family members near San Francisco, who hopefully can take her in and give her a chance to grow.
Packing a duffle with her few belongings, taking her hidden cache of money and a Greyhound bus ticket, she leaves a note, says goodbye to her home, and boards the nearest subway headed for New Jersey. As she travels further west, her plans begin to unravel, but she first feels fear when she is abandoned in Kansas. Alone in the middle of corn country, she appeals to her star. The answer? A friendly truck driver assists her as far as Salt Lake; an auto carrying college students pushes her forward to the Bay Area.
But disgusted by their irresponsible drug use, Kiki jumps out of the car at dusk in Oakland. And, by accident or fate, at the gates of a women's college, her real star-guided adventure begins.
THE ARTEMIS ADVENTURE by Dorothy Rice Bennett, 305 pages, now available in quality paperback for $17.95 at Amazon.com, Barnes and Noble online, and Outskirts Press online, discounted 10 percent.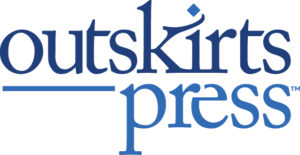 https://outskirtspress.com/agent/key/195751
---
GIRLS ON THE RUN: SYNOPSIS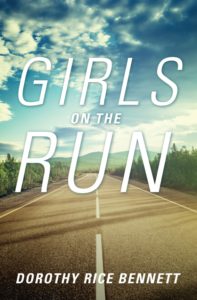 They give each other a passing glance at an Ohio truck stop. Jennifer is driving west, escaping from threatened harm in Pittsburgh. Stacy is hitching to California, running from being rejected as a lesbian by the military and her family. Entranced by the tall, blue-eyed blonde, Stacy sticks out a thumb, and after a moment's hesitation, Jennifer offers a ride to the stocky young woman with the spiked hair. Jennifer has no clue where she is headed; Stacy wants to reach San Francisco. They continue west together, and as miles and terrains slip by, the two forge a tentative friendship despite vast differences between them.
When they eventually arrive in the City by the Bay, it seems natural for them to continue pooling their resources for a small apartment while looking for jobs. Yet, as weeks pass, Stacy longs to explore San Francisco's famed homosexual community, where she can meet other lesbians for fun, sex, and love. Jennifer, although attractive to Stacy, is apparently straight and therefore off limits.  For Jen, the future is an unwritten book, but the arrival of an old friend from home pushes her into the dating world—something for which Jennifer is largely unprepared.
Despite personal successes in their new world and their deep liking for each other, growing conflict over their lifestyles threatens to force Stacy and Jennifer apart.
GIRLS ON THE RUN explores families, friendship, sexuality, love, and the role of destiny in our lives.
GIRLS ON THE RUN BY Dorothy Rice Bennett (published June 30, 2016) is now available at amazon.com, Barnes and Noble online, and Outskirts Press, 346 pages, quality paperback, for $17.95. GIRLS ON THE RUN is also available on Kindle for $7.95 at amazon.com and is free for those participating in Kindle Unlimited.
---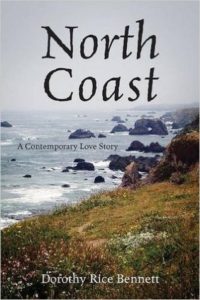 NORTH COAST: SYNOPSIS
Valerie, an aspiring artist, has fled San Francisco following the death of her longtime partner and begun a new life in Eureka, a remote community on California's scenic North Coast. Val advertises for a roomer and opens the front door to a tall, blue-eyed young woman with more mental baggage than personal belongings.
Locked in their landlord-tenant relationship, Valerie finds Gina an intriguing mystery, and the reclusive tenant attempts to remain so. Why Val wonders, as do her lesbian friends, would highly educated Gina work as a part-time waitress rather than teach college? And is she a lesbian?
Eventually, Gina reveals an emotional crisis over her sexuality that has left her with a large debt. She longs to live in San Francisco, which for an Illinois farm girl seems the pinnacle of sophistication, and where she wants to teach and create a future.
Living together with a dog named Sam pulls Valerie and Gina into tentative intimacies which each fights to ignore. Valerie is stable and envisions only a dedicated relationship with another mature adult. Gina, still sorting herself out, thinks that writing and teaching are her top priority. Physically attracted, they grow on each other, but their minds continually fight off the spark. And, since their ages and life goals are so different, their friends also warn them off.
Gina finally says goodbye to Eureka and sets course for San Francisco—after a bittersweet farewell. But as her battered Beetle heads down the 101 to the big city, she—like Valerie—is unsuspecting that her heart may know more than her head.
NORTH COAST: A Contemporary Love Story by Dorothy Rice Bennett. Quality paperback, $16.95. Published by Outskirts Press, June 2015. Available at amazon.com, Barnes and Noble online, and Outskirts Press. Also available at Amazon in Kindle edition, $7.95, and free on Kindle Unlimited.
If you are thinking of self-publishing, contact Outskirts Press before you make a decision about how you are going to publish. I have had a very good experience with this company, which is now the largest publisher in the US for independent authors. For more information, use the following link to get started:
https://outskirtspress.com/agent/key/195751