Exploring Historic Gun Batteries and a Beautiful Lighthouse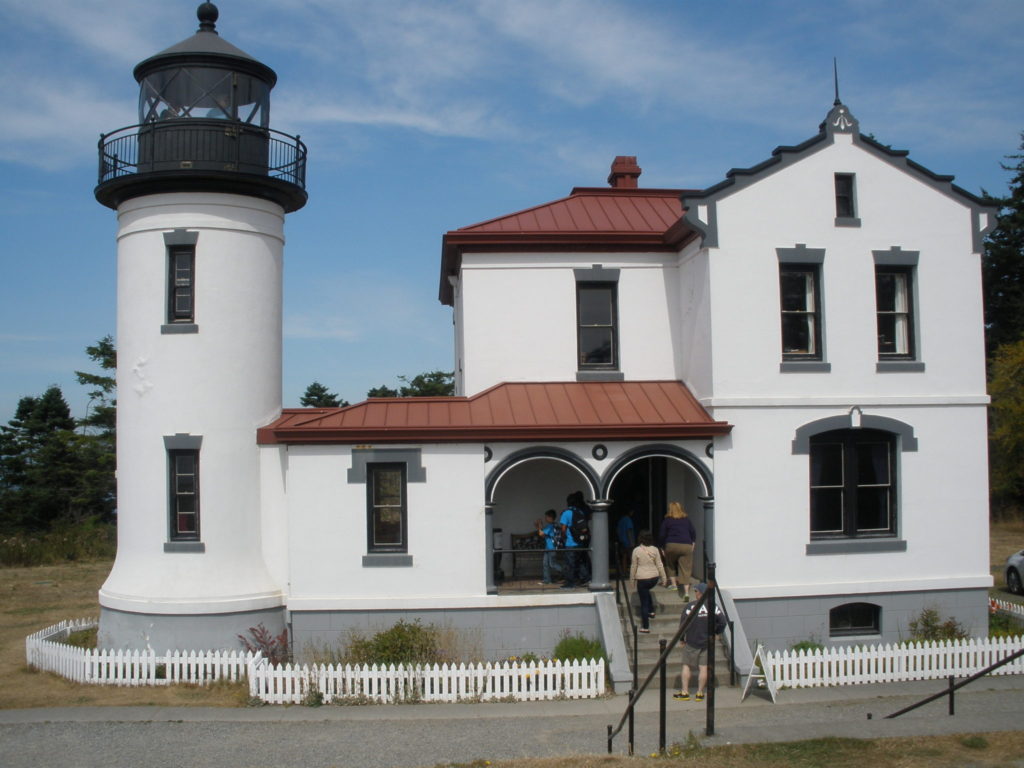 By Dorothy Rice Bennett    
When summer comes to the Olympic Peninsula, temperatures rise to the high 70s and low 80s, the sky is blue, and it's time for outdoor adventures. August is usually a very special month with truly wonderful sunny days.
During two such summers since I moved here, I have spent one warm August day traveling to Whidbey Island. Whidbey isn't far from here, just a hop by ferry from Port Townsend to Coopeville. Once you arrive at Keystone landing, it's just about a mile to a wonderful pair of historic landmarks—Fort Casey State Park and Admiralty Head Lighthouse.
So, after making a ferry reservation, we load the SUV with a picnic lunch, grab the dog leashes and the dogs, tuck everyone into the vehicle and head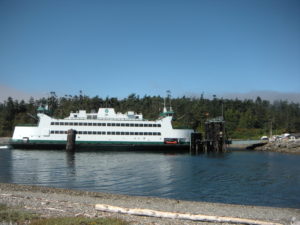 east on the 101 highway to Discovery Bay, turn left onto the state 20 highway headed to Port Townsend. Just south of the main part of town, we see the ferry docks on our right and line up as instructed to wait for the next ferry. As part of the Washington State Ferry system, the Pt. Townsend to Coupeville ferry run is made on a smaller vessel—which is the reason for reservations. Still space for quite a few cars, SUVs and trucks on board and a comfortable passenger cabin a deck above with outdoor spots for photo ops.
Once loaded, the ferry crosses a portion of the Admiralty Inlet (that connects the Straits of Juan de Fuca to the west and Puget Sound to the south) and slides into the Keystone landing. The main part of Coupeville is  about three miles away on the continuation of highway 20. Fort Casey is much closer. You leave the ferry dock and go left on S. Engle Road for less than a mile and turn into the entrance to the park at 1280 Engle Road.
Built for defense
Fort Casey was built in the late 1800s and was used for defense as part of the "Triangle of Fire" that included Fort Worden and Fort Flagler. Each had barracks and other government buildings and gun emplacements, or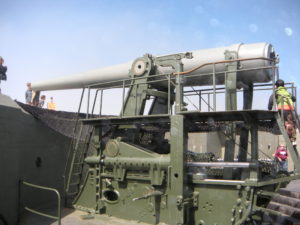 batteries, to protect the Puget Sound against military attack. At Fort Casey, there are several batteries available to be explored; these were used by soldiers being trained at this location during World War I and II. Fort Casey houses rare 10-inch guns mounted and on display. The park itself contains nearly 1,000 acres with considerable saltwater shoreline. Campsites and picnicking are available; the one-time military barracks are now used as conference facilities. There are beautiful views for photographers, including snow covered Mt. Baker to the north.
The the casual visitor, the heart of the park focuses on several gun batteries that sit on bluffs overlooking the water. They are still in good condition—not true of all gun emplacements along the Puget Sound and the San Juan Straits—allowing you to walk and climb all over them (There are several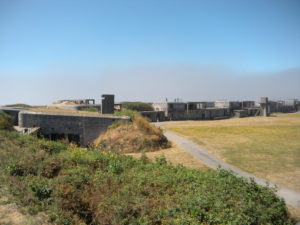 steps and grassy knolls to climb—I remember because my apricot toy poodle didn't like the steps and I had to find another way to reach the batteries!). You can get up close and personal to the guns. There is also a hiking trail that runs along the shoreline through the fort. Children and dogs have open spaces to enjoy; there is a spot for kite flying and a designated remote-control glider area. Guided tours of the gun batteries are available on weekends during the summer months; information is posted at a kiosk near Battery Worth.
A gem of a lighthouse
On high ground within park boundaries sits Admiralty Head Lighthouse. Opened in 1903 and beautiful in appearance, today's Admiralty Head is the second lighthouse at the site and one which served only nineteen years before being shut down as a result of modern steam ships hugging the western shore of the Puget Sound. The lighthouse was reactivated briefly during World War II and was then painted olive drab. Today it is white stucco with red trim and a one-of-a-kind lighthouse, having indoor plumbing and a laundry room. The two-story structure includes three bedrooms.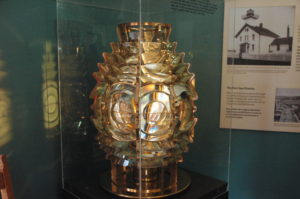 During the summer months Admiralty Head can be visited daily. During most of the rest of the year it is open shorter hours and fewer days, completely closed only during mid winter. Visitors can climb to the tower and look out over the Puget Sound, as did original lighthouse keepers and the soldiers stationed at Fort Casey during the war years. There is also a gift shop and a museum that houses more than one Fresnel lamp originally used in area lighthouses.
Getting there for the day
From Sequim, allow a full day to visit Fort Casey and the Admiralty Head Lighthouse. Port Townsend is 45 minutes away, the ferry crossing is 30 minutes each way, and you need to allow some waiting time for the ferry (and make a reservation). The Coupeville route has occasional cancellations because of wind, tides, and mechanical issues, so be prepared for delays. On my first visit to Fort Casey, there was a two-hour wait to get back across to Port Townsend, so I know it does happen. If you have a picnic lunch with you, that will serve as a noontime meal. There are a couple of eateries close to the ferry landing and nearby Coopeville has nice restaurants, if you choose to stay for dinner. Should you want to return on the ferry before dinnertime, there are many good places to eat in Port Townsend.
There are also other beautiful spots to see on Whidbey Island, and we'll get to those in another blog. Happy exploring!
For more information on schedules, state park fees, etc., before you go to Fort Casey, check the following:
http://parks.state.wa.us/505/Fort-Casey
http://www.lighthousefriends.com/light.asp?ID=31
www.wsdot.com/ferries/schedule/