Getting Cozy with the Animals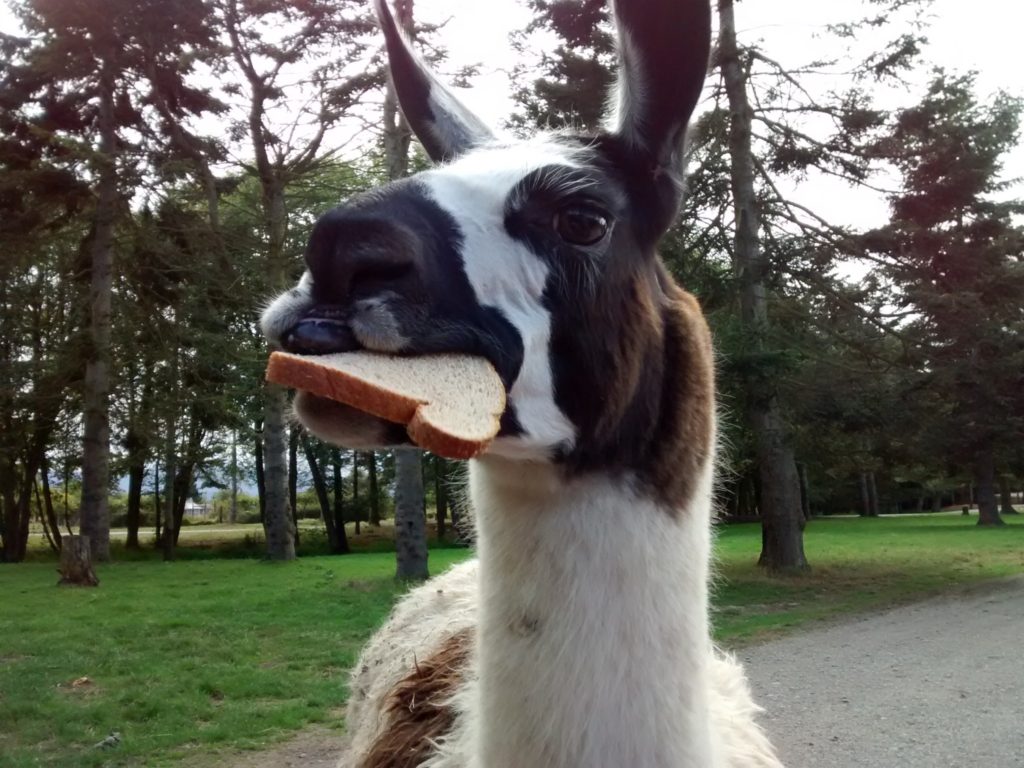 September 28, 2016
By Dorothy Rice Bennett
We had a visitor a couple of weeks ago, and among the sights my cousin Jeanie wanted to see was the Olympic Game Farm. Having visited several times and liking the farm myself, I said, "Okay, let's do it."
The game farm is another one of Sequim's "secrets." Despite a few billboards and a preview trailer onscreen at the nearest movie theatre, the game farm is tucked away on the Sequim-Dungeness Prairie, beside a local road that runs toward the Straits and very near the Dungeness River. You'd never know it's there—until you turn in the front gate.
Once a dairy farm, OGF is comprised of a few large pastures on fairly level ground, a small area of cages for animals that must be restricted, and a hilly area with a few displays—including deer and a prairie dog exhibit. You pay at the front gate and drive your car through the farm on a well-marked path. You also buy at the ticket booth loaves of bread to feed the animals. On a busy day, you may be winding your way behind a dozen cars ahead and with another large group behind you.
The afternoon that Jeanie and I went, the prairie dogs, peacocks, deer, and brown bears seemed to be having a siesta. Bread slices lay around untouched, and the bears hardly opened an eye as the cars passed. I was beginning to think our visit was a bust for Jeanie. Then we entered the first of the main pastures and began to encounter some hungry llamas. The idea is that you keep the car moving but you roll down your windows, and the animals come right up to your car and practically (sometimes actually) stick their heads inside looking for food. You have to be quick to give each one a bread slice, because they can be quite demanding and persistent, although "cute" at the same time.
Come and get it!
After we passed the llamas, we entered through cattle gates another bigger pasture that housed a few deer, several elk, and a large herd of buffalo. The elk and especially the buffalo seemed to be very hungry. We fed them as quickly as we could and moved on as soon as the car in front of us did so. I managed to snap a few pictures of the elk, but the buffalo were so persistent—even following the car—that I finally had to roll up my window in order to steer.
(After our encounter with the buffalo, I also had to wash my car on the way home, courtesy of Jeannie, because buffalo have big black tongues and lots of sticky saliva. But Jeanie was laughing at their antics, so it was worth it.)
There are a few caged animals at the farm, mostly ones that for some reason are not suited to being returned to the wild and are retained in accordance with Washington State regulations. The caging area is currently being upgraded and few animals are visible. There is one Siberian tiger, a fox or two, and some wolves identified on the fencing.
Once you leave the last pasture and exit the farm proper, you'll find a gift shop and snack bar—ready for those who've been on the road and need restrooms and a bite to eat—and maybe a memento of their visit.
Dairy farmer works with Disney
The Olympic Game Farm is not a zoo in the usual sense. The originator, Lloyd Beebe, was a dairy farmer who took nature photographs as a hobby and then gradually built a relationship with filmmaker Walt Disney and served the Walt Disney Studios for some 28 years (Think Disney titles like Vanishing Prairie, White Wilderness, and Those Callaways). Beebe and his family trained animals for Disney films and even used the farm as a location for many pictures. After the death of Walt and Roy Disney, the studios moved away from nature filming, and as a result, the game farm was opened to the public in 1972. The facility is currently operated by Beebe's grandsons, Robert and James Beebe.
OGF is open daily except for Thanksgiving and Christmas. During the summer, a combination tour is offered that includes several extra features, the most significant of which is the studio barn. Built in 1862, the barn was used in filming and today houses many relics from that period of operation. OGF's fall hours, until Thanksgiving, are 9 a.m. to 4 p.m. For more information and ticket prices, visit the farm's website, www.olygamefarm.com
See you at OGF, "home to the waving bears." And stay tuned for more Sequim secrets!