Marveling in 'misty' nature at Salt Creek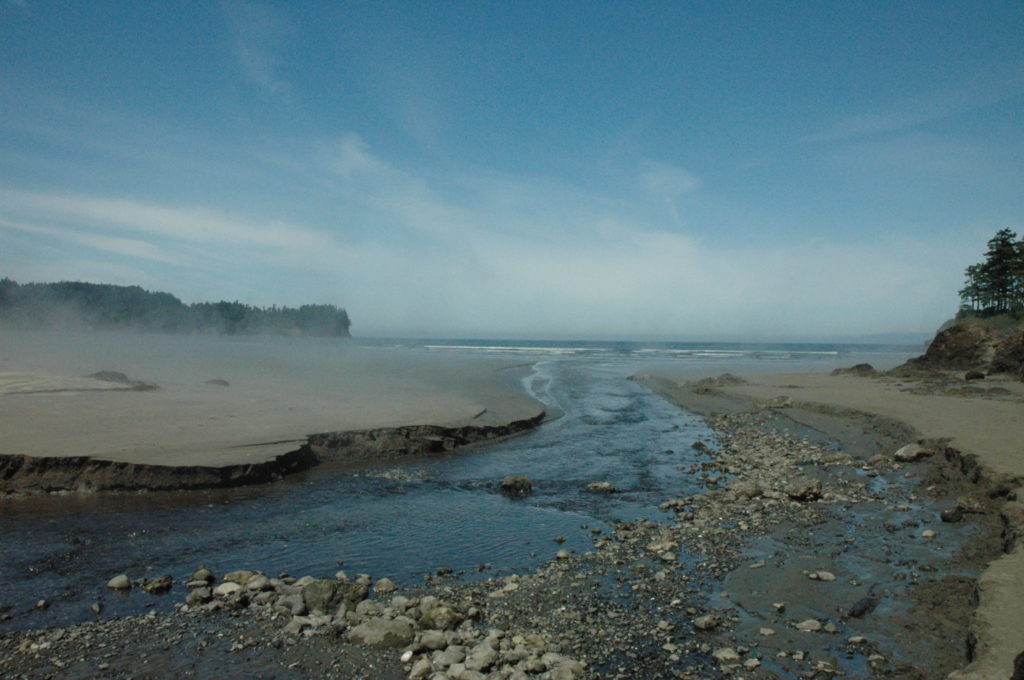 January 7, 2016
By Dorothy Rice Bennett
The Olympic Peninsula, being a peninsula, is surrounded by water on three sides. In fact, the two largest counties on the peninsula, Clallam and Jefferson, have between them, more than four-hundred miles of saltwater coastline. This means lots of bluffs, cliffs, beaches, and incredible scenic beauty—much of it rugged and untamed in parks and public places. Lots to explore!
A friend of mine told me one day, when I was looking for a new coastal area to visit near my home in Sequim, that Salt Creek Recreation Area is a great place to see. Never having heard of this spot, a county park, I looked it up on the Internet. Once I had an idea what and where Salt Creek is, I decided to go. My partner, Connie, and I packed up our SUV and headed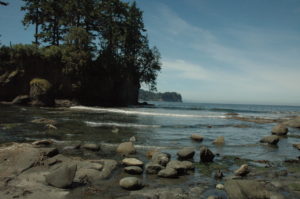 out with our two poodles one day in June 2013. We had lunch along with leashes and cameras and needed them all.
From Sequim, we took Highway 101 headed west and passed through Port Angeles. Shortly afterward, we found the exit to Highway 112, which goes from the 101 and travels first north and then west near the coastline of the Straits of Juan de Fuca. After about five miles on the 112, we exited onto Camp Hayden Road and were now headed straight to the coastline. After a brief drive, we came a split in the road, the right fork leading to the main entrance gate to Salt Creek Recreation Area. Through the evergreens, a delightful vista opened up before us.
[First, a reference to Camp Hayden. This was a World War II defense site, and portions of the bunkers remain on the property to be explored by visitors. A detailed history of Camp Hayden can be found on the Clallam County Parks website. The current Salt Creek county park has been developed on land left from Camp Hayden and sits on two levels.]
Views from the bluff
The upper or main level occupies a large bluff above the coastline. This area includes RV parking, tent camping sites, a picnic enclosure or ramada for large parties, a playground, an open field for games, rest rooms, fire pits, picnic tables, parking, overlooks to the Straits, and a path down to the beach below. (This path is a bit rugged for anyone unsure of foot). There are trails that provide bluff views and connection to an area known as Tongue Point. For day visitors, this upper area of the park is the best place to use for parking, picnics, and hiking. For those with horses, there is also a section with marked horse trails.
When we had finished our lunch and a walk around the upper area—which at the time was the only place we knew about—we got back into the SUV and drove out of the park, turning right onto the Crescent Beach Road. This travels westward through a private beach and camping area and then back to Highway 112 and the community of Joyce.
Hidden beauty
Imagine our surprise when we discovered on Crescent Beach Road a new section of the Salt Creek Recreation Area. Easy to miss because of the private beach just beyond, this part of the park has a small entrance, with just a few parking places, rest rooms, and a path down to a sandy beach. We followed that path and ended up beside the actual Salt Creek, which empties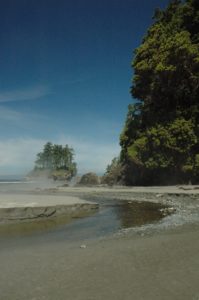 into the Straits. The day we visited, there was a mist hanging over the creek water. It was beautiful and eerie, and we have never seen that mist again during our many visits to the area. Our cameras came out, and we took a lot of pictures of the creek, the bluff to our right (which is part of the main park above), the monolith ahead and to our left (covered with trees on the top) and the rocky coastline that could be walked by the sure of foot.
We spent most of our time in a state of awe in this nearly hidden part of the park. We looked at the bluff, finding small caves, structures formed of driftwood and human hands, interesting rocks and shells, and small smooth pieces of white driftwood—the kind artists use to make figurines. The poodles loved romping, as far as their leashes would let them go. Connie ventured out onto the rocks to get better pictures of the monolith.
When we finally had absorbed as much beauty as we could manage for one trip, we climbed back into the SUV and drove into Joyce, then turned back toward Sequim. We knew we would bring visitors to this park, and we have done so, several times.
The Salt Creek Recreation Area is one of the Olympic Peninsula's treasures—and it is only an hour from Sequim. Being a county park, Salt Creek is governed by the general rules of the Clallam County park system. Daytime visits for picnicking, hiking, etc., are free. There are fees for overnight stays, use of the picnic shelter, and the dump station. Reservations can be made—except in November and December, when it is first-come, first-serve.
If you are on the Olympic Peninsula, don't miss Salt Creek Recreation Area!
For more information, check online http://www.clallam.net/Parks/saltcreekmap1.html
http://www.clallam.net/Parks/SaltCreek.html
http://www.clallam.net/Parks/index.html
http://www.clallam.net/Parks/CampHayden.html