Movie Memories and a Lighthouse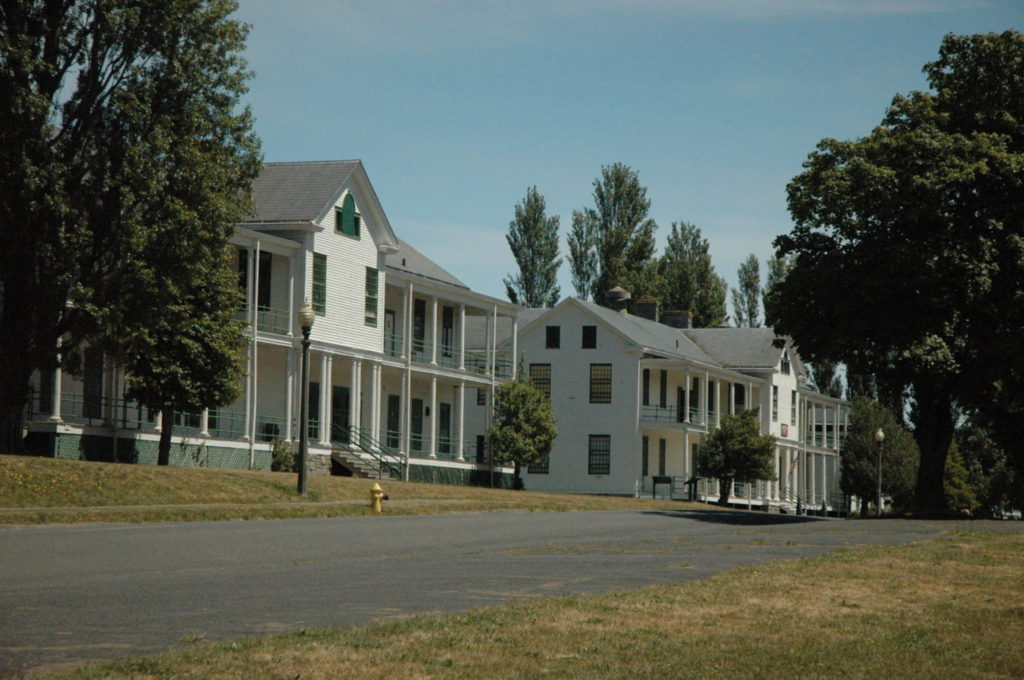 February 11, 2017
By Dorothy Rice Bennett
Did you ever see the movie An Officer And A Gentleman, starring Richard Gere and Debra Winger? Well, it's a love story set at a fictional naval training base near Seattle. That much I knew, but until I moved to the Olympic Peninsula, I didn't know that this favorite movie of mine was filmed largely at Fort Worden, just outside Port Townsend and barely an hour from Sequim.
Port Townsend deserves—and will receive—a blog of its own, but while exploring there one day with my partner, Connie Jenkins, I followed local signs to Fort Worden, which I had been told was interesting to visit. Some of the signs were confusing to me and I got lost a couple of times. Later I found that if I followed the main street of Port Townsend to the water's edge, turned left and followed the last street by the water uphill and along the coastline, I passed a lot of homes and eventually reached the fort. You can't miss it this way. (From Sequim, you take 101 to the east, and at Discovery Bay, turn left onto highway 20, and a few miles later again turn left at a stoplight to continue on 20 into downtown Port Townsend)
Colorful history
Fort Worden has an interesting military history, having been built as a US Army installation in 1902 to protect the Puget Sound and named for Rear Admiral John Lorimer Worden, commander of the USS Monitor in the Civil War. It is now managed, along with the accompanying Fort Worden State Park, as part of the Washington's state park system. The fort's white buildings—former barracks, officers' homes, headquarters, and mess hall—are used for college classes and other educational programs, corporate meetings,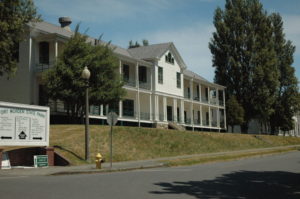 summer camps, music festivals, restaurants, and rentals for visitors. Several of the main historic buildings are laid out in rows on both sides of a broad common grass field—a parade ground where troops once assembled and marched. Photo ops abound, and walking around these buildings offers visitors a unique sense of history. My personal favorite spot is the fort's gift shop (since I am a T-shirt aficionado). Photos taken here for this blog are courtesy of Connie, who is good with a camera! We were picnicking that day and found a lovely shaded spot with a picnic table just off the main street—thanks to advice from gift shop staff.
Some aspects of the original Fort Worden are now incorporated into the neighboring hilly and tree-laden state park. A memory vault, two large gun batteries, several hiking trails, and roads named "Battery Way," "Mule Barn Rd," and "Searchlight Rd" are colorful park highlights. A large wetlands occupies one corner of the park; it was created to protect birdlife and is named "Chinese Gardens" after early farming efforts by Chinese immigrants. Compared to the highly developed Fort Worden, the state park portion of the property is a bit rustic, as reported by visitors. The gun batteries are crumbling and require care when visiting, and although the wetlands area has paths through it, hikers should expect to get wet.
In recent years, there has been much development at Fort Worden. Currently, camping at Fort Worden is being incorporated into the Washington park system, and soon camping reservations will be available through the main state park reservation system. (Trying to explain all this can be difficult, in that we have a fort and a state park adjoining each other on a point of land; they are intricately intertwined but you can visit the fort without having much to do with the park—a little different from usual state park facilities!)
Passing main buildings and the assembly field on Pershing Ave, you can turn left onto Harbor Defense Way and follow this road past Port Townsend Marine Science Center, RV parking areas, and shortly arrive at a rocky beach and Point Wilson Lighthouse. The Olympic Peninsula is extremely fortunate to have three lighthouses that are visible—and two that can be visited. (See earlier blogs about Cape Flattery Lighthouse on Tatoosh Island near Neah Bay and New Dungeness Lighthouse near Sequim.)
A lighthouse up close and personal
Point Wilson lighthouse is imposing and the most easily accessible of the three lighthouses. The building is notable because it has a 49-foot tower that is octagonal in shape to reduce wind pressure. Using grass, beach, and rocks, you can walk almost all the way around it. The lighthouse can be visited during summer months. Parking is available very close to the fenced structure. Photo opportunities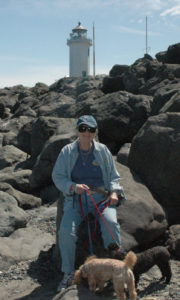 exist from many directions. And the rocky beach (everything from pebbles to boulders) is an attraction of its own.
The lighthouse sits literally on a point of beachfront land named Point Wilson by Captain George Vancouver in 1792 for his colleague Captain George Wilson. The point marks the meeting of the Straits of Juan de Fuca and the Puget Sound and is a significant marker for ships passing through this area. Point Wilson has a very complex history beginning with a simple foghorn on the site; the current lighthouse was completed in 1914 and then automated in 1976. Buildings surrounding the lighthouse are remains from previous structures and were used as residences for lighthouse keepers and then occupied by Coast Guard personnel until 2000. The light, a fourth level Fresnel lens, is currently monitored from Port Angeles by the Coast Guard.
Flooding has threatened Point Wilson Lighthouse in recent years, and there have been plans for the State of Washington to take charge of the structure, incorporate it into Fort Worden State Park, and even move it to safer ground. Stay tuned.
Latest information suggests that you can visit the lighthouse from May 19 to Sept. 15 on Saturdays from 1 to 4 p.m.
Port Townsend, Fort Worden and Fort Worden State Park, and Point Wilson Lighthouse are located close to Sequim. Well worth a nice afternoon journey to see it—or a day or more to explore all of it.
Before you go, check out some of these online sites for more information:
http://www.olympicpeninsula.org/things-to-do/point-wilson-lighthouse
http://www.lighthousefriends.com/light.asp?ID=108