Perfect Picnics at Fort Flagler Historic State Park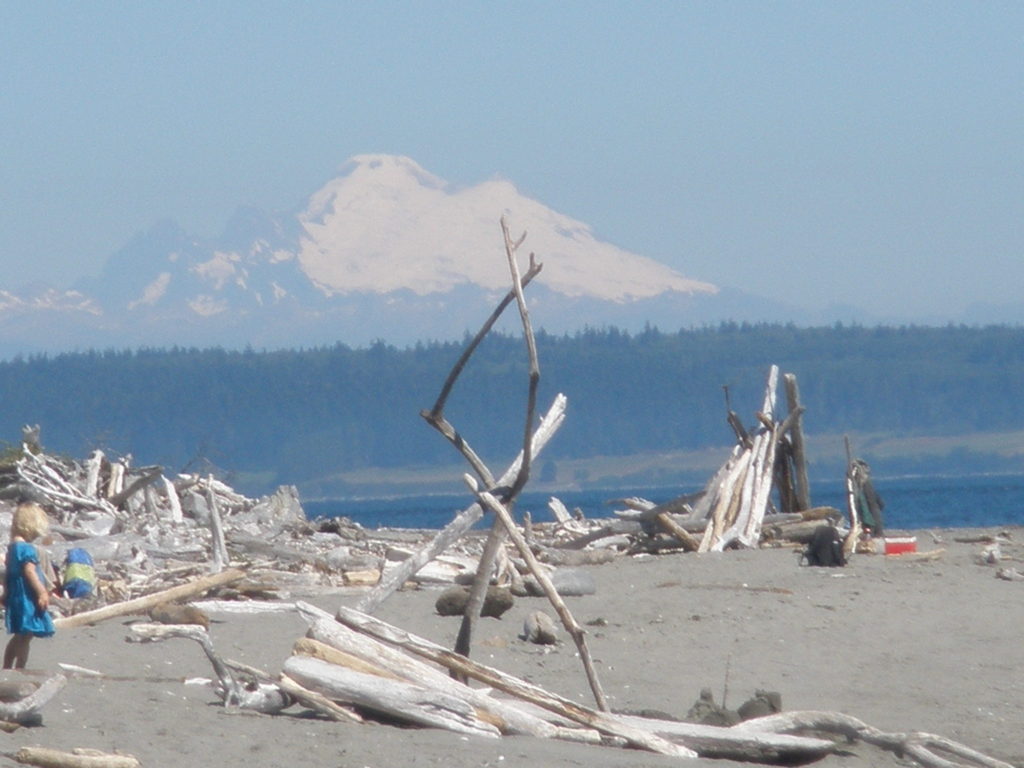 By Dorothy Rice Bennett
There are some days when the sky is blue, the temperature is perfect, and the breeze is gentle that it's temping to take off for the day. Forget the lawn, the weeds, the shopping, and all those other household chores, and just enjoy a day-trip for pure fun.
Every summer, I take one of those wonderful days and head for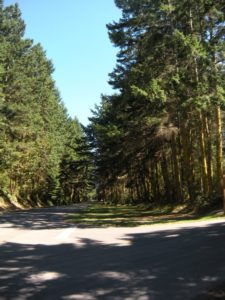 Fort Flagler Historical State Park on Marrowstone Island, east of Port Townsend and the Olympic Peninsula. From Sequim it's just about an hour's drive through evergreens, rural areas, small communities, and water views. We load up the CR-V with sandwiches or chicken and goodies, and take the dogs. They love it. I bring along a baseball and a couple of gloves for a session of pitch and catch along the beach.
Military heritage
Like Fort Worden in Townsend and Fort Casey on Whidbey Island, Fort Flagler served as part of the "triangle of fire" and was built to protect the Puget Sound and Seattle from enemy warships or planes that could enter through the Straits of Juan de Fuca to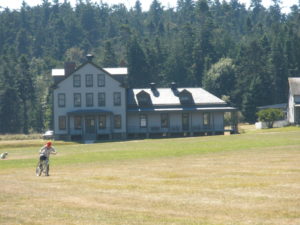 attack. Built in the late 1890s, Fort Flagler was manned during World Wars I and II and the Korean War. Numerous gun emplacements are still intact and can be explored independently or through tours provided during summer months.
Many of the military barracks and other buildings surrounding a large manicured parade ground are still used today for summer rental retreats (look for Camp Hoskins and Camp Richmond). These sit on a large bluff overlooking the water. There is a gift shop, military museum and also a 1905 award-winning military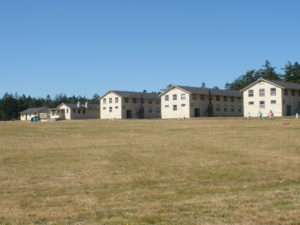 hospital open for tours from Memorial Day through Labor Day (check dates and times before going). The Coast Guard maintains a station and simple lighthouse at the northernmost tip of Marrowstone Island; these are not open to the public but are approached via the park.
Fort Flagler park faces the Puget Sound and Whidbey Island to the east and the Olympic Peninsula, Port Townsend Bay, and Port Townsend to the west. Both these viewpoints have lengthy beaches for walking and picnicking. Most of the gun batteries are located on the north coastline, with one battery standing on the main park road (Flagler Campground Road). The state park, densely covered in tall evergreens, contains nearly 1,500 acres of marine campground and almost 2,000 feet of saltwater coastline.
Perfect spot for picnics
Most of my picnics have been on the beach to the east, just south of the Coast Guard enclosure, and below the bluff. There are wooden fences around several of the picnic tables that offer a windbreak and make enjoying a meal a lot easier, given proximity to wind and water. The long beach in that location is covered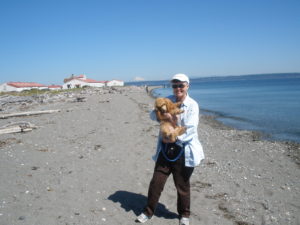 with bleached logs and other pieces of driftwood. It's illegal to remove the driftwood, but visitors have fun playing with the pieces and building structures from them. From that beach there are particularly beautiful views of snow-covered Mt. Baker to the north.
The gift shop near the former barracks on the bluff above the beach is small but delightful, and volunteers who work there are very friendly. Many have served at Fort Flagler for several years and have amusing stories to share. (The military museum attached to the gift shop has a restroom, in case you are looking for one after your drive.)
On the west beach, there is a large RV area and a host spot, where you can stop to ask questions about the park. There is also an espresso shop (Beachcomber Café) with souvenirs, ice cream, and other goodies. You'll find rest rooms nearby.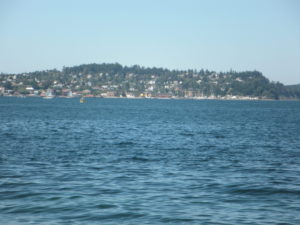 Fort Flagler offers many activities. There are two boat launches, five miles of hiking trails, two miles of beach trails, fishing, clam digging, and crabbing. Also kite flying, paragliding, and birding. On a sunny summer day, there is no better place to be.
Getting there
To reach Fort Flagler (10541 Flagler Rd, Nordland, WA 98358) from Sequim, you drive east on Highway 101, turn left on Highway 20 at Discovery Bay, drive northward to Anderson Lake Road, turn right and follow that road eastward to Highway 19. Turn left on 19 and enter the main part of Chimacum, turning right at an intersection onto Highway 116. You'll cross a bridge to Indian Island (a fenced military reserve) and cross a small link of land onto the south end of Marrowstone Island. Follow 116 northward all the way into Fort Flagler Historical State Park. Entering the main section of the park, through a staffed gate, requires a day pass or an annual Discovery Pass.
Fort Flagler is such a large, beautiful, and peaceful state park that is well worth a visit. I have enjoyed being there so much that each spring I can't wait for those sunny days—when Connie and I, along with the two poodles, can plan an escape to this lovely spot!
http://parks.state.wa.us/508/Fort-Flagler
https://www.google.com/maps/place/Fort+Flagler+Historical+State+Park/@48.0612326,122.7496231,15647m/data=!3m1!1e3!4m5!3m4!1s0x548fee38dda50bfd:0xd8170c5473eea13e!8m2!3d48.0949218!4d-122.7032413